Study Overview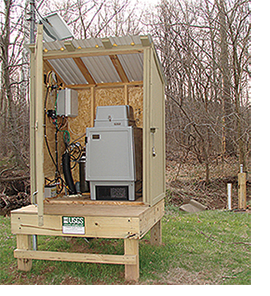 Problem
In the past decade, hundreds of millions of dollars have been invested into the implementation of Best Management Practices (BMPs), with the explicit goal of improving water quality. Earlier research has demonstrated that these implemented BMPs are effective at the plot-scale and the field-scale; however, less information is available to document the effectiveness of these BMPs at the watershed scale - precisely the scale at which water-quality compliance and water-quality improvements are typically judged. Because of the costs associated with the implementation of these BMPs, federal, state, and local agencies are asking:

1. Are the implementation activities working?
2. How long will it take for the BMPs to work?
3. Are there more time-efficient, cost-effective methods for detecting these improvements?

Answers are needed to these questions to support the development of watershed implementation plans, to motivate BMP implementation by stakeholders, and to ensure the vitality of the cost-share programs that have supplemented the cost of implementing these BMPs.
Objectives

Develop and initiate a water-resources monitoring network within Fairfax County to describe surface-water quantity and quality in numerous County streams. The data collection will be designed to provide a long-term record that can be used to address two fundamental objectives...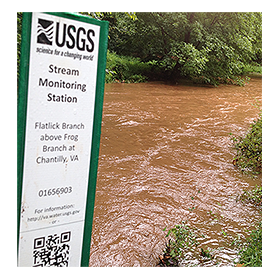 Objective 1. Develop four integrated water-resources monitoring stations throughout the County that can be used to describe current conditions and trends in both water quality and water quantity. These water-resources data also will be used to compute loads in water-quality constituents, such as sediment and nutrients. Finally, these data will be used to evaluate water-quality improvements that are associated with BMP implementation activities.
Objective 2. Evaluate the transferability of the results from the intensive water-resources monitoring stations to other watersheds. After determining the water-quality improvements that have occurred in the intensively monitored watersheds, evaluate whether the interpretations developed in these intensively monitored basins are consistent with trends and patterns in other less-intensively monitored (partial-record) watersheds. These partial-record trend sites will have slightly varied basin characteristics as the intensively monitored watersheds and will likely have differing amounts of BMP implementation activities.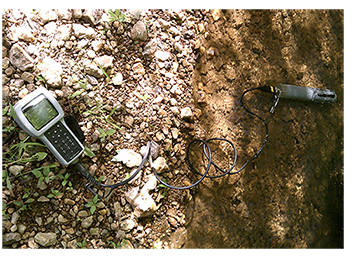 Approach

The approach for satisfying the first objective includes operating an intensive water-resources monitoring station in each of four selected watersheds. Each water-resources monitoring station includes a continuous-record (continuous record = data collected every 15 minutes) stream gage, continuous-record water-quality monitor (measuring water temperature, pH, specific conductance, and turbidity), and an automatic stream-water sampler for the collection of stormflow samples. Water-quality sampling (for nutrients and suspended sediment) is conducted monthly for the determination of trends, and during stormflow events for the calculation of loads. Additionally, benthic macroinvertebrate sampling is conducted annually to evaluate the effect of BMP implementation on the in-stream biological community.
Additional data are collected in ten less-intensively monitored basins - referred to as partial-record trend basins to evaluate the transferability of the results from the intensive water-resources monitoring stations (Objective 2),. These partial-record trend basins will be used to determine whether (and how) the inferences drawn in the intensively monitored basins are applicable to other basins. To cost-effectively generate the required data for water-quality trend evaluation in these watersheds, a partial-record streamgage is operated and monthly water-quality sampling is conducted, thus allowing the determination of trends in sediment and nutrients. Annual benthic macroinvertebrate sampling is conducted at these sites as well.
Expansion of Monitoring Network

In 2012, the original 14-station monitoring network was expanded to include 6 additional monitoring stations. Of these 6 monitoring stations, 5 are low-intensity trend-monitoring stations and one is a high intensity monitoring station. The intent of the addition of these stations was to provide representation of watersheds not included in the original network and to monitor smaller (generally ‹1 mi2) watersheds with high rates of planned BMP implementation. Responses to BMP implementation in small watersheds with high rates of implementation are expected to be more readily identifiable in comparison to slightly larger watersheds with potentially less implementation.


Stations in Monitoring Network

A map of station locations, with links to available data, can be found HERE. A list of stations is provided in Table 1.
Table 1. Monitoring stations used in the Fairfax County Cooperative Water-Resources monitoring program.
USGS Station ID
Station Name
Station Type
01646305
Dead Run at Whann Avenue near Mclean, VA
Intensive
01645704
Difficult Run above Fox Lake near Fairfax, VA
Intensive
01656903
Flatlick Branch above Frog Branch at Chantilly, VA
Intensive
01654500
Long Branch at Route 620 near Annandale, VA
Intensive*
01645762
S.F. Little Difficult Run above Mouth near Vienna, VA
Intensive
0165694286
Big Rocky Run at Stringfellow Road near Chantilly, VA
Trend
01645940
Captain Hickory Run at Route 681 near Great Falls, VA
Trend
01657394
Castle Creek at Newman Road at Clifton, VA
Trend
01653844
Dogue Creek trib at Woodley Drive at Mount Vernon, VA
Trend *
0165690673
Frog Branch above Flatlick Branch at Chantilly, VA
Trend
0164425950
Horsepen Run above Horsepen Run trib near Herndon, VA
Trend *
01652789
Indian Run at Bren Mar Drive at Alexandria, VA
Trend
01645745
Little Difficult Run near Vienna, VA
Trend
01645844
Old Courthouse Spring Branch near Vienna, VA
Trend
01653717
Paul Spring Br above North Branch near Gum Springs, VA
Trend
01657322
Popes Head Creek Tributary near Fairfax Station, VA
Trend
01655305
Rabbit Branch trib above Lake Royal near Burke, VA
Trend *
01644343
Sugarland Run trib below Crayton Road near Herndon, VA
Trend *
01652860
Turkeycock Run at Edsall Road At Alexandria, VA
Trend
01657100
Willow Springs Branch at Route 29 near Centreville, VA
Trend *
* Station was added as part of 2012 network expansion.