Project Information
Title:
Continuous Water-Quality Monitoring for the Roanoke River Flood Reduction Project
Number:
2482-9QE30
Location:
Roanoke River in the Cities of Salem & Roanoke, VA.
Cooperating Agency:
U.S. Fish and Wildlife Service
Project Chief:
Ken Hyer
Period of Project:
2005 to present
USGS IN YOUR STATE
USGS Water Science Centers are located in each state.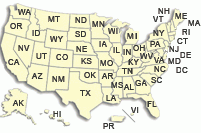 Continuous Water-Quality Monitoring for the Roanoke River Flood Reduction Project
Introduction:
The U.S. Army Corps of Engineers and the City of Roanoke are working on the construction of a congressionally authorized Roanoke River Flood Reduction Project (RRFRP). The RRFRP has significant public attention from the perspectives of flood reduction and protection of the Roanoke River as a natural resource. Water-quality issues are a concern throughout the urbanized project area. Urbanization, impervious surfaces, nonpoint runoff, and siltation are important and dynamic water quality factors. Additionally, the Roanoke logperch (Percina rex), a federally listed species is found within the project area. Therefore, the RRFRP is being constructed in a complicated urban river system and has the potential to affect water quality, particularly with respect to sediment in the river.

Objectives:
This project will address the following objectives:
(a) Initiate a continuous water-quality monitoring study for the Roanoke River in the area upstream and downstream of the RRFRP project area
(b) Provide a mechanism for detecting short- and long-term changes in Roanoke River suspended sediment water quality during and after the RRFRP implementation
(c) Assess trends in suspended sediment water quality in this section of the Roanoke River.
Approach:
Continuously monitoring water-quality sondes were installed at four locations on the Roanoke River that bracket the area of the RRFRP. These water-quality sondes are outfitted with sensors for the continuous determination of turbidity, water temperature, specific conductance, and pH. Intensive manual water-quality sampling will be performed during a broad range of flow conditions (including low-flow, intermediate-flow, and storm-flow conditions) to provide up to 18 manual water-quality samples each year. The intensive water-quality sampling is being performed over the entire range of hydrologic conditions (including extremely high flows) because it is during storm-flow periods that the majority of sediments are transported. During manual sampling, the field parameters of turbidity, water temperature, and specific conductance are measured, and a water sample is collected for suspended sediment analysis. For storm-flow samples, a size fractionation analysis (percent sand and percent fines) also is performed on the sediment sample. Data analysis is performed to determine whether the water quality in the subject reach is changing during the RRFRP implementation.