The Appalachian Plateaus province encompasses approximately 1,600 mi2 and is characterized by a well-dissected mountainous landscape with dendritic drainage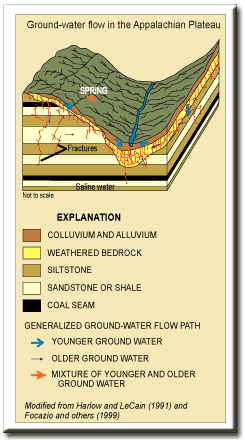 formed on almost flat-lying to gently folded Paleozoic sedimentary rocks (Trapp and Horn, 1997). Elevations range from about 1,000 ft above sea level to over 4,000 ft above sea level on High Knob. The eastern edge of the province is the Cumberland Escarpment, which coincides with the Appalachian structural front where the westernmost fault of the Valley and Ridge province reaches the surface. A thin mantle of weathered material covers the bedrock, which is composed of relatively undeformed sedimentary rocks--sandstone, shale, and limestone (Powell and Larson, 1985). The most characteristic rock type is coal that occurs as beds and seams and is commonly fractured (cleats) along joint systems (Harlow and LeCain,1991). Vertical, stress-relief fractures are another prominent feature in this province (Wyrick and Borchers, 1981).
Ground-Water Flow
Ground-water flow occurs in (1) the regolith (unconsolidated alluvium, colluvium, and saprolite) and (2) along fractures and joints in the bedrock. Recharge to the fractured rock aquifers is somewhat limited by the highly dissected, steep terrain and relatively impermeable bedrock. Ground water moves steplike along the more permeable vertical fractures and sub-horizontal coal and sandstone beds (Harlow and LeCain, 1991; Trapp and Horn, 1997).
Generally, apparent ground-water ages can be relatively old; however, downward movement of water along the vertical fractures can be rapid and enhanced by pumpage.
References
Focazio, M.J., Plummer, L.N., Böhlke, J.K., Busenberg, Eurybiades, Bachman, L.J., and Powars, D.S., 1998, Preliminary estimates of residence times and apparent ages of ground water in the Chesapeake Bay Watershed, and water-quality data from a survey of springs: U.S. Geological Survey Water-Resources Investigations Report 97-4225, 75 p.
Harlow, G.E., Jr., and LeCain, G.D., 1991, Hydraulic characteristics of, and ground-water flow in, coal-bearing rocks of southwestern Virginia: U.S. Geological Survey Water-Supply Paper 2388, 36 p
Powell, J.D., and Larson, J.D., 1985, Relation between ground-water quality and mineralogy in the coal-producing Norton Formation of Buchanan County, Virginia: U.S. Geological Survey Water-Supply Paper 2274, 30 p.
Trapp, Henry, Jr., and Horn, M.A., 1997, Ground Water Atlas of the United States: Delaware, Maryland, New Jersey, North Carolina, Pennsylvania, Virginia, West Virginia: U.S. Geological Survey Hydrologic Atlas HA 730-L, p. .
Wyrick, G.G., and Borchers, J.W., 1981, Hydrologic effects of stress-relief fracturing in an Appalachian valley: U.S. Geological Survey Water-Supply Paper 2177, 51 p.