The Blue Ridge province encompasses approximately 3,000 mi2 along a narrow north-east-trending belt between the Valley and Ridge and Piedmont provinces and consists of a chain of mountains and highlands underlain by metamorphosed Proterozoic and Paleozoic rocks (Reed, 1970). Elevations range from about 220 ft above sea level along the Potomac River at the State line to 5,729 ft above sea level on Mount Rodgers. Generally, soils are thin and weathering profiles are shallow (Meyer and others, 1965). Hack (1982) separated the province into two sections because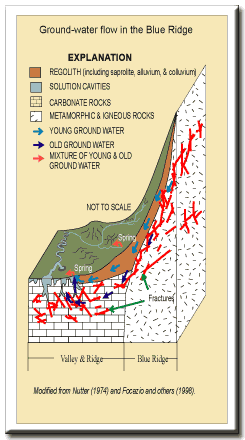 the origins of the topography differ. The section north of the Roanoke River, the Northern Blue Ridge Mountains, is characterized by a narrow range of high mountains underlain by Precambrian-age to Cambrian-age quartzite, phyllite, metabasalt, and granodiorite that form the northwest limb of an anticlinorium. The section south of the Roanoke River, the Southern Blue Ridge Province, is much broader and was separated by Hack (1982) into five subdivisions based on topography: (1) the Chilhowee-Walden Creek belt underlain by Cambrian-age quartzite and faulted carbonate rocks and shale that form long, steep ridges separated by parallel valleys along the northwest margin; (2) the Mount Rodgers area underlain by Precambrian volcanic and metasedimentary rocks that form a few high ridges just north of the North Carolina/Virginia border; (3) the Blue Ridge Highlands underlain by massive Precambrian-age gneisses and amphibolites that form high mountains cut by deep valleys and basins; (4) the New River plateau, which encompasses the headwaters of the New River in North Carolina, underlain by thinly layered schist and gneiss that form a broad plateau with a few low mountains; and (5) the Blue Ridge escarpment underlain by finely laminated gneiss that form a narrow strip of land that drains southeastward to the Piedmont province.

Description from Nelms and others (1997)

Ground-Water Flow

Ground-water flow occurs in (1) the regolith (unconsolidated alluvium, colluvium, and saprolite) and (2) along fractures and joints in the bedrock. Numerous springs discharge from the the regolith and from the contact between the regolith and bedrock.

Apparent ground-water ages can be relatively young because flow velocities and gradients are high and ground-water storage is limited in the fractured rock aquifers in the Blue Ridge, especially in the springs developed in the alluvium and colluvium on the mountain slopes.
References
Focazio, M.J., Plummer, L.N., Böhlke, J.K., Busenberg, Eurybiades, Bachman, L.J., and Powars, D.S., 1998, Preliminary estimates of residence times and apparent ages of ground water in the Chesapeake Bay Watershed, and water-quality data from a survey of springs: U.S. Geological Survey Water-Resources Investigations Report 97-4225, 75 p.
Hack, J.T., 1982, Physiographic divisions and differential uplift of the Piedmont and Blue Ridge: U.S. Geological Survey Professional Paper 1265, 49 p.
Meyer, Gerald, Wilmoth, B.M., and LeGrand, H.E., 1965, Availability of ground water in the Appalachian region, in Schneider, W.J., and others, Water resources of the Appalachian region, Pennsylvania to Alabama: U.S. geological Survey Hydrologic Investigations Atlas HA-198, 11 sheets, scale 1:2,500,000.
Nelms, D.L., Harlow, G.E., Jr., and Hayes, D.C., 1997, Base-flow characteristics of streams in the Valley and Ridge, the Blue Ridge, and the Piedmont Physiographic Provinces of Virginia: U.S. Geological Survey Water-Supply Paper 2457, 48 p.
Nutter, L.J., 1974, Hydrogeology of Antietam Creek Basin: U.S. Geological Survey Journal of Research, v. 2, no.2, p. 249-252.
Reed, J.C., Jr., 1970, The Blue Ridge and the Reading Prong: Introduction, in Fisher, G.W., Pettijohn, F.J., Reed, J.C., Jr., and Weaver, K.N., eds., Studies of Appalachian geology: Central and southern: New York, Wiley-Interscience, p. 195-197.