New Publication: Spatial and temporal variation of stream chemistry associated with contrasting geology and land-use patterns in the Chesapeake Bay watershed—Summary of results from Smith Creek, Virginia; Upper Chester River, Maryland; Conewago Creek, Pennsylvania; and Difficult Run, Virginia, 2010–2013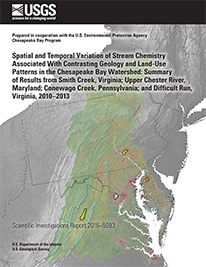 In 2010, the U.S. Geological Survey partnered with the U.S. Environmental Protection Agency and the U.S. Department of Agriculture to initiate water-quality monitoring in four selected small watersheds that were targeted for increased implementation of conservation practices. Smith Creek watershed is an agricultural watershed in the Shenandoah Valley of Virginia that is dominated by cattle and poultry production, and the Upper Chester River watershed is an agricultural watershed on the Eastern Shore of Maryland that is dominated by row-cropping activities. The Conewago Creek watershed is an agricultural watershed in southeastern Pennsylvania that is characterized by mixed agricultural activities. The fourth watershed, Difficult Run, is a suburban watershed in northern Virginia that is dominated by medium density residential development. The objective of this study was to investigate spatial and temporal variations in water chemistry and suspended sediment in these four relatively small watersheds that represent a range of land-use patterns and underlying geology to (1) characterize current water-quality conditions in these watersheds, and (2) identify the dominant sources, sinks, and transport processes in each watershed.

The general study design involved two components. The first included intensive routine water-quality monitoring at an existing streamgage within each study area (including continuous water-quality monitoring as well as discrete water-quality sampling) to develop a detailed understanding of the temporal and hydrologic variability in stream chemistry and sediment transport in each watershed. The second component involved extensive water-quality monitoring at various sites throughout each watershed to develop a detailed understanding of spatial patterns. Both components were used to improve understanding of sources and transport processes affecting stream chemistry, including nutrients and suspended sediments, and their implications for detecting long-term trends related to best management practices. This report summarizes the results of monitoring that was performed from April 2010 through September 2013.
New Publication: Hampton Roads Regional Water-Quality Monitoring Program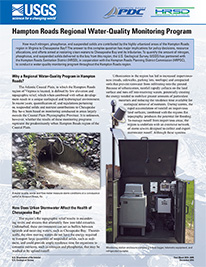 How much nitrogen, phosphorus, and suspended solids are contributed by the highly urbanized areas of the Hampton Roads region in Virginia to Chesapeake Bay? The answer to this complex question has major implications for policy decisions, resource allocations, and efforts aimed at restoring clean waters to Chesapeake Bay and its tributaries. To quantify the amount of nitrogen, phosphorus, and suspended solids delivered to the bay from this region, the U.S. Geological Survey has partnered with the Hampton Roads Sanitation District (HRSD), in cooperation with the Hampton Roads Planning District Commission (HRPDC), to conduct a water-quality monitoring program throughout the Hampton Roads region.