Virginia Aquifer Susceptibility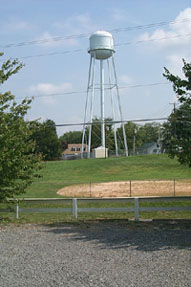 Public water system
Problem
The Commonwealth of Virginia is required to develop a program for assessing public supply source waters to determine their susceptibility to contamination. The Commonwealth needs a tool to screen over 1,500 public ground-water supply systems and to determine which systems need detailed source-water assessments.

Objective
To identify the intrinsic natural susceptibility of regional aquifers in Virginia that serve as public water supplies and to apply this information in screening public ground-water supplies and identifying those that require detailed source-water assessments.

Relevance and Benefits
The results of this study will allow the streamlining and focusing of the Source-Water Assessment Program of the Virginia Department of Health (VDH) on public water supply systems that have the greatest natural susceptibility to contamination from near surface sources. The study will allow the Commonwealth of Virginia to prioritize source-water investigations and to devote available resources to water supplies that are potentially most susceptible to contamination. The apparent ages of ground water provided by this study will greatly enhance the current understanding of Virginia's regional aquifer systems and will result in improved management of the Commonwealth's public water supplies.

Approach
Various ground-water dating techniques (CFC's, tritium, tritium/helium, and carbon-14) will be used. Isotopic and water-quality analyses will be used to aid in the interpretation of age determinations for approximately 150 sites. Compilation of existing data on age determinations, hydrogeologic framework, and well construction. Geochemical modeling will be used to refine age determinations, especially carbon-14 ages. Age determinations will be related to the regional aquifers using statistical techniques.