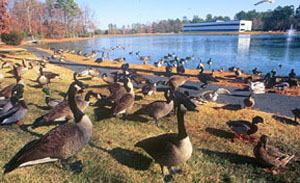 Canada Geese
Total Maximum Daily Load (TMDL)

Cattle in stream
Problem
In Virginia, 464 stream segments with a total stream length of 2,166 miles are listed as impaired waters on the Commonwealth's 303(d) list due to violations of water-quality standards. Of these, 152 stream segments with a total length of 1,165 miles are listed as a result of violations of Virginia's standard for fecal coliform bacteria - 1,000 fecal coliform bacteria per 100 ml. There are many potential sources of fecal coliform bacteria within each impaired watershed, such as people, pets, livestock, and wildlife. As a result, determining the source(s) of fecal coliform bacteria causing these water-quality violations is highly uncertain. This uncertainty makes it difficult to define accurate waste-load allocations, develop supportable total maximum daily loads (TMDLs), and direct source-control measures that are accepted by the public.
Objective
The primary objective of this study is to develop watershed models that can be used to assign TMDLs for three stream segments listed on the Commonwealth's 303 (d) list for fecal coliform bacteria violations. Specific objectives of this project are to: 1) produce a calibrated and verified model of watershed hydrology and fecal coliform transport for each of the three selected stream segments, 2) develop a technical approach for linking bacteria source tracking information into the watershed model, and 3) develop waste-load allocations.

Relevance and Benefits
This study will provide a practical demonstration of incorporating bacteria source tracking information into the TMDL development process. This study also will develop and demonstrate improved modeling techniques that can be applied to the numerous stream segments in Virginia that are impaired by fecal coliform bacteria. This information and these techniques can be transferred by the USGS and the USEPA for application in neighboring states in the Middle-Atlantic region.

Approach
Three fecal coliform impaired streams were chosen (Accotink Creek, Christians Creek, and Blacks Run) which represent the dominant land-uses within the state of Virginia - urban, agricultural, and combined urban and agricultural. Within each watershed, streamflow and fecal coliform bacterial transport will be simulated using the Hydrological Simulation Program - Fortran (HSPF) watershed model. Simulated streamflow will be calibrated to match historical USGS streamflow data. Simulated instream fecal coliform concentrations will be calibrated to observed fecal coliform concentrations and bacteria source tracking data. Additional fecal coliform bacteria samples will be collected during elevated streamflow events. Data from these high flow samples will be used to verify the model's ability to account for the variability found in fecal coliform bacteria concentration as a result of increased streamflow. The calibrated and verified models of hydrology and fecal coliform bacteria transport will be used to assign waste-load allocations and generate TMDLs for Accotink Creek, Christians Creek, and Blacks Run.